Reality Retard Edition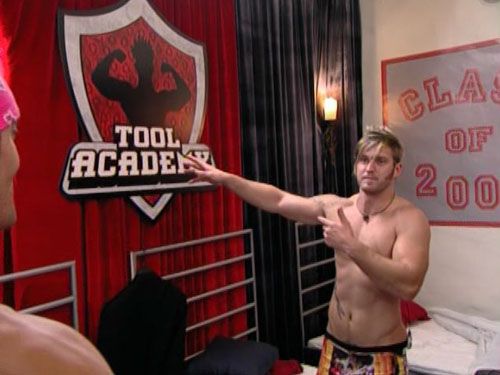 VH1's boot camp for boyfriends reality series, Tool Academy, featured hot-tempered hottie Shawn "Loud Mouth" Southern. The 27-year-old underwear designer is currently based in LA was snapped with two strippers and another naked man in a bathroom.

Check out the leaked image of Shawn and his lil' tool. I'm not sure which I'd rather have: The tiny peepee or that awful hairdo with chops. YUCK.




video of him using a penis pump


Original Video- More videos at TinyPic
Daisy's resident Butterface, 6 Gauge, certainly wasn't the most attractive one in the bunch, but at a meaty 6'3" and 225 pounds, the former stripper turned reality whore is definitely a brown bag special.

6 Gauge sat down with the VH1 blog and some details about his stripper past, exhibitionism among the men in the Daisy house and his failed Playgirl cover that's now a video on the defunct magazine's Web site.

He received his moniker 6 Gauge when he entered the Daisy of Love house and revealed he had a pierced penis.

On his stripping career, he says:

I don't spend time with my clients outside the club in a sexual manner or for sexual favors. If I might go shopping because I need a new outfit, or I need a new car or a new cell phone, if they want to buy me dinner or give me a couple hundred bucks or they want to take me to a public outing and give me money for it, fine. But there's nothing sexual, period. These chicks are just fat, they're looking for attention, whatever the case may be. They're wanting that emotion, but guys just want that one b***j***. They're like, "Give me five minutes of your time." They'll give you $300 or $400 bucks, and they're out the door.

VH1: Sex or no sex, it does seem like what you're saying is there is a fine line between male strippers and escorts, right?

Yes.

How did you get into stripping?

It was a flat-out dare. My buddy was stripping and he was like 'Man, just give it a try.' And I gave it a try and I went from making $600-700 a week bartending to making $2,500 a week. And I don't have a six pack or a two pack or a four pack. It was all about personality and having fun and I'm all about entertaining. I enjoy entertaining because I'm a singer in a band and I love to entertain and I love to keep people smiling.

Do you go totally nude when you strip?

No, no I don't go totally nude. But I have been in Playgirl.

When was that?

2008. I was actually supposed to be on the cover and I think the magazine actually went bankrupt, but it was online. I don't know if I still am, but hopefully not. But if I am, who cares? I have a big hog and I got a piercing, that's what matters.





source= http://www.tabloidprodigy.com/?p=2868#more-2868 & http://www.tabloidprodigy.com/?p=2811